• Giveaway
I have owned my full size Oliso® Pro™ Smart Iron (pictured, yellow) for 5 years. I first used an Oliso at a quilt retreat and promptly ordered one for myself at Quilt Market a couple weeks later. I adore the iTouch® system and it will totally spoil you for all other irons!  The new Mini Travel Iron™ from Oliso's is just as awesome. It gets hot and stays hot. The diamond coated sole plate maintains heat and glides smoothly over the surface, with a detailer tip for getting into corners. It also has an 8ft cord!  Each Mini Travel Iron™ comes with the silicone Solemate™ resting pad...
---
WELCOME TO MONTHS 10 & 11! Once again we are again playing with the leftover mini and regular diamond pieces.  You will be making a total of 4 stars (like Months 3 and 4) in each size - 2 sets for Month 10 and 2 for Month 11.  You can play with light, medium and dark fabrics to create movement. The mini pieces sew together very quickly but can be a little more challenging to remove the papers.   Sew Diamonds into sets of 2. Sew into sets of 4 according to the directions in your pattern. Sew 2 sets of 4...
---
WELCOME TO MONTH 9!  We're so close to the finish line!  This month we are using 16 Diamonds to make the block.  Sew Diamonds into 8 sets of 2 and then into 4 sets of 4 Tack tips together If desired, add a fussy cut to the center opening: applique the fussy cut into place, then press the seam allowance in towards the center so the raw edges are hidden Fold the background diagonally so you can line up the block Sew in place using the technique you chose in Month 1 Don't forget to post at Karie's Sewing Spot so we...
---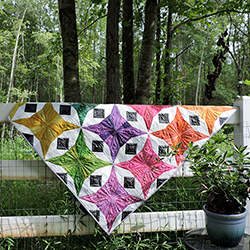 There's nothing like a shimmery new quilt to compliment summer, and my new pattern, Jeweled Facets, is one of my new favorites!  Generous 14" blocks offer a variety of design possibilities and make this quilt go together quickly.  To celebrate, I've put together an EPP Paper Kit containing the pattern, papers for either 12 or 20 blocks (shown), acrylic templates, and a FREE Jeweled Facets needle minder!  Pre-order your kit now until September 15th at a specially reduced price. Or pre-order your PDF copy of the Jeweled Facets pattern, and it will be delivered to your email inbox the day it releases.  I can't...
---
My newest foundation-pieced pattern, Jeweled Blossoms, is featured in the 2020 Quilter's Planner Magazine, and you can pre-order yours TODAY!The Quilter's Planner has been an essential tool for my business. Everything from designing patterns to planning my social media campaigns is housed in this book, and I don't know what I'd do without it. You can use graph paper to create your quilt designs or dot grid pages for bullet journaling, keep track of to-do-lists and appointments, and dream on paper - the possibilities are endless!  This year, they've added a lot of new things you won't want to miss: Enjoy 10% off all...